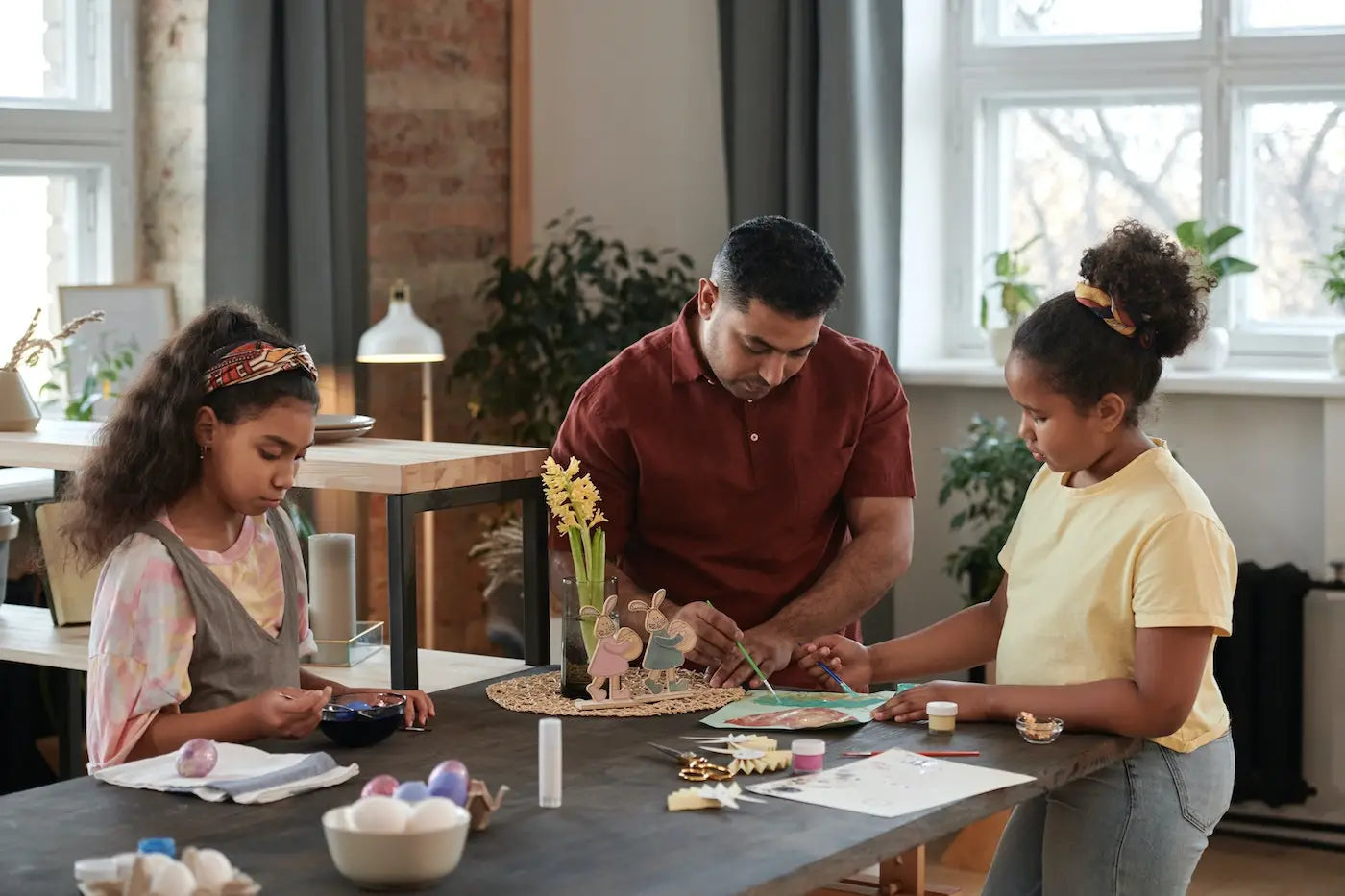 Great Ideas for the Perfect Easter Party
Hosting the Perfect Easter Party has just got Easier
Coming up with ideas for organizing and planning an Easter themed party, whether for kids, adults, or a combination can be a pretty fun and exciting process all on its own. The holiday lends itself to silliness and, let's be honest, the fact that it's been taken over by the chocolate and sweets industry doesn't hurt (at least for those of us with a sweet tooth!).
Hosting an Easter party can be a great way to bring family and friends together who you might otherwise not see very often. In this article, I'll guide you through some of the preparation required for an Easter themed party, including some fun ideas for activities, food and drinks, and even some easy Easter decorations.
Table of Contents
What is Easter all about?
Easter is an annual holiday that celebrates rebirth and new beginnings, and is celebrated pretty much throughout the world. The holiday is primarily Christian, marking the resurrection of Jesus Christ, but it's also become a time (or dare I say, an excuse!) for family gatherings. 
In my house and speaking from plenty of experience, as we head toward the faithful day (and with a little help from the advertising industry machine) Easter becomes a buzzword. With each passing day in March our kids get more and more excited for the incoming chocolate and sweets tsunami, and we have little choice but to partake in the ritual, religious or otherwise.
Many cultures have their own unique Easter traditions. In Sweden for example, Easter is celebrated with a variety of traditions, including the "Easter Witches," who are believed to fly on broomsticks to the mountains to meet with the devil. Children dress up as witches and go door-to-door asking for candy. While in Brazil Easter is celebrated with a large festival called "Osterfest," which takes place in the city of Blumenau. The festival features traditional German music, food, and beer, as well as an Easter egg hunt. Sweets and Easter eggs seem to be a common factor across most traditions.
If you're lucky Easter may also be deemed a public holiday in your country as it is in many others. This gives you the time to spend with your family while participating in some fun Easter activities. So whether you celebrate Easter in a religious context, or prefer it more secular, it's a definitely an ideal time for some joy and togetherness.
Six Easter Party Activity Ideas
The first step in planning an Easter themed party is to think about the activities you'd like to include. Depending on your guests and their sensibilities will help you determine which activities will be preferable. Some Easter activities can be considered too child-centric, while others are aimed at a more mature adult-oriented crowd. 
Below are six great Easter activities that both adults and children can enjoy. Depending on the age of your guests you can always adapt the games to be either more adult orientated, or the more child-like. 
The prizes above are really what can take your Easter party from a typical child-based affair into adult territory. Adult orientated prizes such as alcohol and gift cards can add a new twist on the idea. While the games may feel childlike, the prizes will bring the child out of the adults!
Printable Easter themed party games can also be a great way to keep guests entertained. These games can include trivia about Easter traditions and history, word scrambles, and bingo. By grabbing some printable party games, you can easily add a fun and interactive element to your party without breaking the bank.
Food and Drinks for Your Easter Party
Let's be honest, if you can succeed at the Easter Party catering, half the battle is won! No party is complete without some delicious food and drinks. 
While sugar and chocolate bunnies are important, they should rather make up a side of the food offerings. When planning your Easter party menu, consider incorporating traditional Easter foods such as ham, deviled eggs, and hot cross buns. You can also offer a variety of finger foods such as fruit skewers, veggie platters, and cheese and cracker trays. And for those guests who are vegan or plant based, there's plenty of faux-meat, cheese and egg options available today, not to mention amazing vegan chocolate.
Six Easter Party Food Ideas
Deviled Eggs: Deviled eggs are a classic Easter appetizer that are easy to make and always a hit at parties. Hard-boiled eggs are cut in half, and the yolks are mixed with mayonnaise, mustard, and other seasonings before being piped back into the egg whites.
Hot Cross Buns: Hot cross buns are a sweet bread traditionally eaten on Good Friday, but they can also be enjoyed at Easter parties. These soft, spiced buns are typically topped with a cross made of icing and are perfect served warm with butter.
Honey-Glazed Ham: A honey-glazed ham is a classic Easter main dish that is easy to make and always delicious. Choose a bone-in ham and bake it in the oven with a glaze made of honey, mustard, and other seasonings for a flavorful and impressive centerpiece.
Carrot Cake: Carrot cake is a perfect dessert for Easter parties. This moist, spiced cake is typically topped with cream cheese frosting and decorated with carrots made of marzipan or frosting.
Roasted Vegetables: Spring vegetables like asparagus, peas, and artichokes are perfect for roasting and make a delicious and healthy side dish for Easter parties. Toss the vegetables with olive oil and seasonings and roast them in the oven until they are tender and golden brown.
Chocolate Easter Eggs: No Easter party is complete without chocolate eggs! These can be made at home with molds or purchased from a store. Fill them with a variety of fillings like caramel, ganache, or peanut butter for an indulgent treat your guests will love.
For drinks, consider serving refreshing beverages such as lemonade, iced tea, or a fruit punch. You can also create a special Easter cocktail or mocktail by adding colorful garnishes and using festive glassware.
Desserts are a must-have at any party, and Easter is no exception. Consider serving Easter-themed treats such as sugar cookies decorated with pastel icing or a bunny-shaped cake. You can also incorporate traditional Easter candies such as Peeps and Cadbury eggs.
Decorating for an Easter Party
When planning an Easter-themed party, it's important to choose decorations that capture the spirit of the holiday and make your home feel festive and welcoming. In this article, we will explore the different types of decorations you can use for a home-based Easter themed party.
Six Easter Party Decoration Ideas
Easter Bunnies and Eggs: When it comes to Easter, bunnies and eggs are iconic symbols that represent the holiday. You can use these symbols as inspiration for your party decorations. You can find bunny-themed decor like plush toys, figurines, and even Easter bunny wreaths. Eggs can also be used in a variety of ways, such as hanging decorated eggs from branches, using egg-shaped candles, or decorating with egg garlands.
Spring Florals: Easter takes place in the springtime, so incorporating spring florals into your decorations is a great way to capture the season's essence. You can create floral centerpieces with fresh flowers, use potted plants as table decorations, or hang floral wreaths on your front door.
Pastel Colors: Pastel colors are often associated with Easter, and using them in your decorations can help create a festive atmosphere. You can use pastel-colored tablecloths, napkins, and tableware, or add pastel-colored balloons or streamers to create a fun and playful environment.
Easter-Themed Table Settings: Creating a beautiful and festive table setting is an essential part of any Easter-themed party. You can use egg-shaped placeholders, bunny-shaped napkins, and pastel-colored tablecloths and table runners to create an Easter-themed table setting.
Easter Banners: Banners are an easy and fun way to decorate for any party, and Easter is no exception. You can create a DIY Easter banner using construction paper, scissors, and string. You can also find pre-made Easter banners at party supply stores or online.
Easter Lights: You can add some sparkle to your Easter party by incorporating lights into your decorations. You can use string lights to create a festive ambiance or hang Easter-themed lanterns from your ceiling or trees.
When you start down the rabbit hole (and no, I won't apologise for that fantastic pun!) there are so many different types of decorations you can use for a home-based Easter themed party that is can get quite daunting. Whether you choose to use Easter bunnies and eggs, spring florals, pastel colors, Easter-themed table settings, banners, or lights, the key is to create a fun and festive atmosphere that captures the spirit of the holiday. By tapping into some of these ideas, you can create a beautiful and memorable Easter party that your guests will remember for years to come.
Conclusion
Hosting an Easter themed party is a great way to celebrate the holiday with family and friends. By including fun activities, delicious food and drinks, and festive decorations, you can create a memorable and enjoyable celebration.
Good luck and if you have any of your own great ideas feel free to include them in the comments below!
---
NOTE: We are an Amazon Affiliate Partner. We may earn a small commission from qualifying purchases made through the links provided on this site.